Typically a patient who has undergone a radical prostatectomy using the da Vinci Surgical System can expect to leave hospital in just one to two days and return to normal daily activities within the week. Depending on your occupation you can expect to return to work between 1 and 4 weeks.
Dr Peter Swindle is one of a small group of fully trained robotic surgeons in Australia. He performs robotic prostatectomy regularly and was the first surgeon to use the minimally invasive technique in Queensland using the State of the Art da Vinci robot.
In the USA, roughly 80% of all radical prostatectomy's are performed using this technology, where the robot replicates the surgeon's hand. The system is not programmed and is not capable of decision making, but requires that each surgical step be performed with expert direction from Dr Swindle. It has been used successfully in thousands of procedures worldwide.
In Australia approximately 22% of all radical prostatectomies are performed with the da Vinci robot and this figure has been rapidly increasing. Our figures in Australia mimic what has happened in the USA with an increasing number of procedures being performed each year. A total of over 5000 robotic prostatectomies have been performed in Australia and over 2000 robotic prostatectomies are now performed each year (see figure below).
The da Vinci Robot
The da Vinci system enables Dr Swindle to operate the robotic instruments in a full range of motions transforming the surgeon's hand movements into corresponding movements of the surgical instruments within the patient. The da Vinci robot comprises the surgeon's console and a surgical cart.
The surgical cart utilises one robotic arm to control the endoscopic camera which provides 3D vision, and three robotic arms to control surgical instruments. It is located next to the patient and allows the ability to rotate the instruments with unrivalled precision and control, using only a few small incisions.
The robot only requires incisions of less than 1cm, compared with an incision of up to 25cm for a traditional radical prostatectomy. This results in less pain, a shorter stay in hospital, earlier return to normal activities, less blood loss and less risk of infection.
The da Vinci robot is innovative technology that enables surgeons to operate in the difficult to get to lower reaches of the pelvis through very small incisions.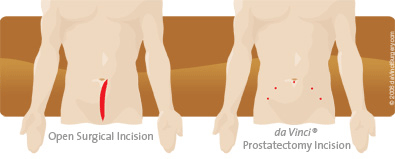 Recent studies suggest that da Vinci Robotic Prostatectomy may offer improved cancer control and nerve sparing, faster return to potency and continence realised by the surgeon's enhanced precision, tremor filtration and unmatched 3D visual appreciation 3D visualisation. Nerves and vessels are magnified 10-15 times giving the surgeon more accuracy while reducing the risks of excessive blood loss.
In summary, the procedure offers these potential benefits;
Significantly less pain
Less blood loss
Less scarring as surgical incisions are much smaller compared to other prostate surgery methods
A shorter hospital stay
A faster return to normal daily activities
Quicker return to work